Use a styled shoot to book more
You don't have to be a wedding photographer — or even in the wedding industry — for styled shoots to bring in more clients for your business.
You could be an Etsy store owner who is looking for more sales (and you prefer to call your people "customers" instead of clients) and you know that an increase in traffic is going to mean an increase in sales.
You could be a hair salon and you want to increase your customer base for your blow dry bar.
Or you could be a wedding photographer, florist, planner — you name it — and you're looking for more clients. But not just more. You want more of the right fit kind of clients. The clients who get you, your work and make you excited to do your job.
Let's talk about how you can book more clients with a styled shoot. And if you're a photographer, a styled wedding shoot!
Do you remember when styled shoots first became a thing? I once packed up my sisters, what felt like all of their belongings, and we had some sort of rainbow shoot in a field. Or there was that one time I made my sister wear my grandma's dress for a Little House on the Prairie feel.
Styled shoots have come a long way! Ha!
Book more clients with a styled shoot
1. redefine the styled shoot
When you're creating a styled shoot for your business, you get to decide if you want to work with a whole team or if you want to do it solo. We're at an amazing point in the creative industry where it's not just photographers who know how to take and edit photos.
If you're here, then you probably know a thing or two about cameras or you're just starting out! So creating your own images is a valid idea.
Realted post: Double exposure tutorial
2. Should you do it solo or bring on a whole team?
Is this shoot something you can execute yourself? If so, crank Ben Rector's "Brand New" and shoot the images yourself! If you know you're going to need a team to pull it off, reach out to a photographer.
3. get your brand message into an image
If one of your core values is "rest is greater than hustle," you could create a styled shoot around that idea. Go pitch that idea to other creatives who might want to provide the images, props, venue, or whatever it is that you'll need to pull off images that line up with your business' core values.
Picture a mimosa, good book and a sun hat laid out for a lifestyle shot next to a pool.
Then share those images on social media with your core message in the caption. Hey, hey! I think we just developed the starting place for a brand messaging strategy!
4. Use the shoot as a networking opportunity
If you choose to work with a whole team, make a day out of it. Invite the rest of the team to lunch or dinner after the shoot so you can learn more about them.
Try to think of one additional way you can serve each person on the team. Maybe it's an encouraging card, a product from your shop, or getting everyone's bill for the lunch/dinner.
5. Blog your shoot
Is blogging dead? No, no, no.
Ask that question to anyone who is still blogging and I imagine that they've found a way to make blogging work for their business.
Maybe they've even found a way to make sure they get paid every time they blog — without ads or sponsored posts. Ads and sponsored posts are a great revenue stream! But if you don't want to go that way with your blog, blogging is still a great way to get paid doing what you love.
Launch your shoot the same way Anthropologie launches a new collection of clothes. Better yet, get your whole team to blog the shoot and you can drive traffic to each other!
Related post: How to plan a styled shoot
Want an inside look at my blogging strategy? Click the image below and watch my recent IGTV episode on blogging in 2018...
5 tips for blogging in 2018
Click image below to watch the IGTV episode
6. Use the images on social media
Blog all of your favorite images and then drag those images into Planoly to arrange your future feed and get those captions out of your head!
7. Use the images on future blog posts
You can use the images for your Pinterest graphic or to just help tell the story of what you're talking about in your blog post.
Related Posts:
Plan your light & airy instagram feed, part 1
Plan your light & airy instagram feed, part 2
Comment below and tell me — How do you see styled shoots working for your business? Did you have any creative ideas while reading? I'm excited to schedule some shoots and share them with you!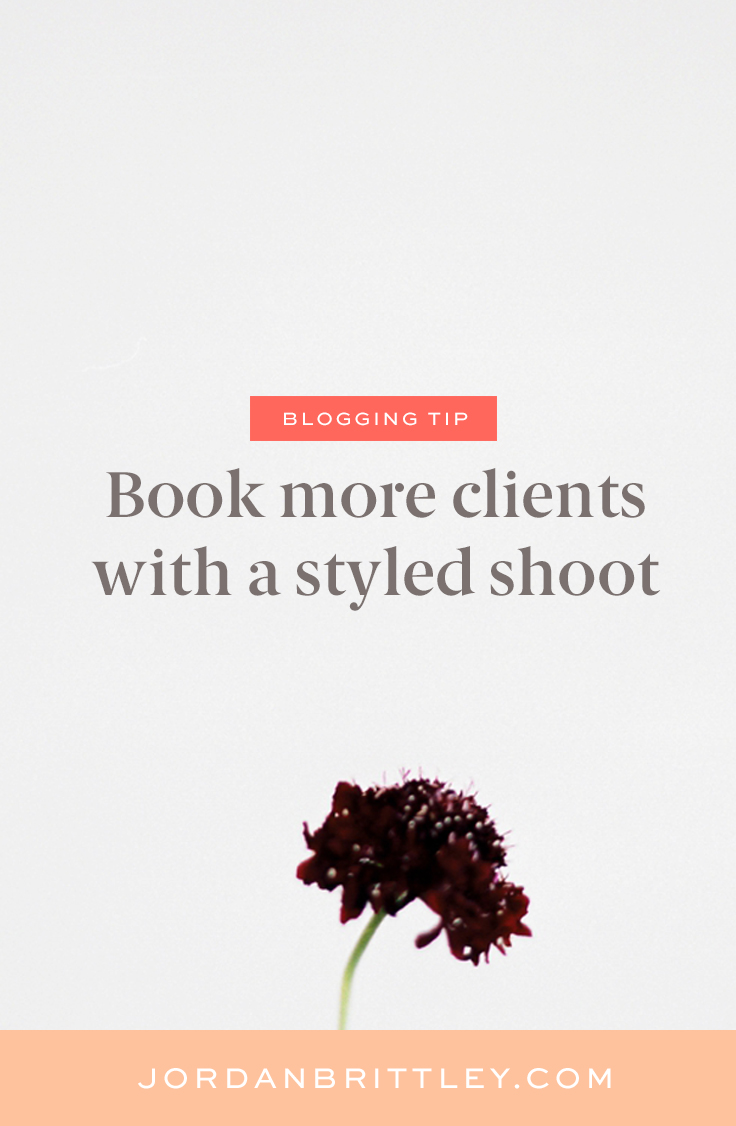 You and me both! Pin this image so you can come back to this post anytime.
Name your board "Blogging Tips" so we can find your faves!