4 Light & Airy secrets for Lightroom
You open Lightroom for another editing session, bound and determined to make the editing process feel like a trip to the spa. Wait — did I just find a way to mention my love for a good massage and mani-pedi?
I mean, I had my first massage this year in the middle of wedding season and felt like my body had transformed all in a day's work… but I didn't have to do any of the work. What's not to love?!
Back to editing: you and I both want those light & airy images, and sure, sometimes you'll have to deal with editing tricky images, but having a bit of a formula definitely wouldn't hurt. We took our must-happen-to-every-image edits and put them in a free preset just for you, so if you don't have that freebie yet, now's a good time to click, download, install, and come back to this post so you can learn just a bit more about LR secrets that will give your image just a bit of a boost.
Open Lightroom and let's chat about four areas you won't necessarily use on every image, but when the time is right, these secrets add that extra somethin'-somethin' to your photo.
Are you part of the Brittley Preset Suite fam? These secrets are already loaded into your presets so you don't have to worry about when to use them or what you have to do to other parts of the image in order to keep your image from looking fake. We've already handled allllllll of those details for ya! But this post will give you more insight into what is actually happening inside your presets so you can maximize your presets and keep the light and airy on point.
4 Light & Airy secrets for the next time you open Lightroom
If you're a Lightroom newbie, I want you to really experiment with every slider we're chatting about today. Drag the slider all the way to the left and all the way to the right to see how it changes your image. Just be careful not to become mesmerized by the possibilities. It's easy for us creatives to get sidetracked and we start to think that ultra-green skin tones are cool because we just didn't know you could do that in Lightroom (no one thinks that). But they are not cool because no one wants to look like the Grinch.
So play around with the sliders, but stay focused on your end goal: bright and airy.
And I just have to say, I fell in love with greens all over again when @edenk.photo shared this on Instagram. It's crazy to remember that there was a time when I avoided shooting greens when I was working with digital. And now, thanks to the light and airy Brittley Presets, I'm all about those greens!
STEP 01: Apply the basic Light & Airy Preset
Need to download the free light & airy basic preset? Click here, enter your email, and install this beaut into Lr.
STEP 02: Bring down the Clarity, bright & airy secret #1
This little gem, when used right, is one of Lr's best-kept secrets. It's going to soften the overall image, but the first thing it does is soften the blur in your photo. So if you're shooting at f/2.0 — woah, woah grab this free guide if that "f" thingy stresses you out — then your skin tones in the image are going to be just slightly out of focus. Right?
Because you're focusing on the eyes, the eyes will be tack-sharp and the skin will be just slightly out of focus. Awesome! That's exactly what we want.
The reason no one cares? Because when you're hanging out with someone face-to-face, you're not studying their pores… you're looking at their eyes. Plus, the skin is only barely out of focus, so it just looks creamy and smooth — not a bad thing to have happen to your skin, am I right? It's like you almost don't even need to wash your face everyday… almost.
Keep washing your face. Love, Your Mom
So keep your aperture low (that's the craziness that looks like f/number) and that will help you keep the skin just a bit creamy. Then bring down the clarity to around -4 when using the free preset. If you feel like you need to bring it down a bit more, try clicking it down just a little at a time.
If you bring it down more than the -4, you'll want to add some contrast back to your image and find the perfect balance so your image doesn't turn into fairy dust. (Go ahead, drag the clarity down all the way to -100 and see what I'm talkin' about.)
STEP 03: Use split toning, your light & airy secret #2
Next up, one of my all-time faves! Just don't do what I did in college. I was working on a photo shoot that I did with one of my sisters, and I pulled the highlights into the red section and the shadows into the green section. Ewwwwww.
Remember that whole mesmerized thing I was talking about when you're a Lightroom newbie? Totally been there, so guard yourself, people. Creativity can be a dangerous thing.
Instead of doing what I did, scroll down the the "Split Toning" section in Lightroom and punch in these numbers:
Highlights
43
4
Shadows
211
4
It's a subtle, subtle difference, but you don't really want to go to town in this section or your image will end up looking like a whole lotta fake and that's not something you need in your life right now. Because you're all about those brighter photos.
And we don't do fake greens or muddied skin tones.
STEP 04: Bring up the shadows, your Light & Airy secret #3
Something you might find while scrolling through a random person's YouTube channel is a tutorial about bringing the shadows way up. And I mean way up.
Don't do that.
One of the biggest light & airy misconceptions is that you have to get rid of shadows in order to have a bright and illuminated image. But the truth is that in order for you to rock your edits, you're going to actually need those shadows.
Shadows create depth and interest and it's something our eye automatically navigates to in order to define the parameters of an image.
Woah, that sounded way too nerdy. Let's try this…
Shadows make your image more interesting because it tells your eye where the image begins and ends.
Way better.
So when you're bringing those shadows up, you're going to want to stick to +10 to +35. If you look at your image and think it still needs to be brighter, then you're actually going to want to bring up your exposure.
Those shadows need to stay in that range to keep that depth (unless you're working with an ultra-tricky image, but that's a convo for a different time).
STEP 05: Tackle your white balance, your airy secret #4
You can have all of the settings you need for the dreamiest bright and airy image and if your white balance is off, it's never going to work.
So let's make sure you have everything you need to get started with your temperature and tint sliders.
These two sliders are located at the very top of your Basic settings in Lightroom.
If you drag the temperature to the left, it's going to cool off your image, and if you drag it to the right, it's going to warm it up.
If you drag the tint to the left, it's going to give your image a green tint, and if you drag it to the right, it's going to give it a pink tint.
Now the most important thing to understand with these sliders is they are not intended to add color to your image. Sure, you'll need to make sure the skin tones are warm (or warm-ish depending on your style), but these sliders aren't about adding more yellow, blue, green, or pink to your image.
These sliders are so all of the color adjustments you make in the rest of Lightroom (or with your light and airy BPS) actually adds up to a light and airy image that looks just like film.
If you love a little bit of a warm color in your greens and yellows (aka not so film-like), here's what you can do…
+ Option 1: Do your 10 second edit with the BPS and make sure you apply the Clean Saturation preset or…
+ Option 2: Use the Brittley Portra preset for a little bit of warmth in your image.
+ Option 3: Read all about HSL in this blog post
Once you've done that, you can go master your temperature and tint to make sure your bright & airy edit is ready for the #brittleypresets feed.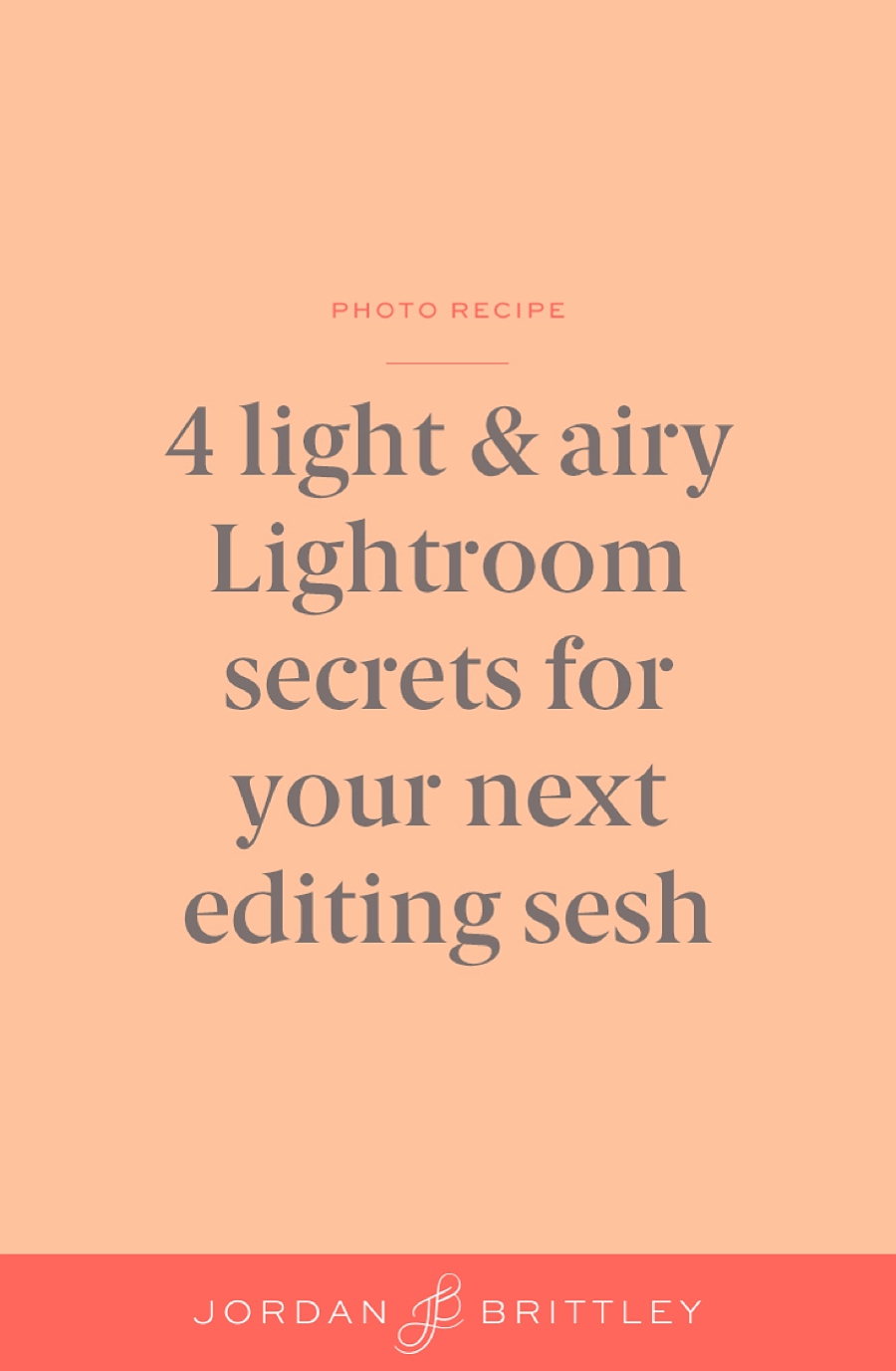 You and me both! Pin the image to the left so you can come back to this post anytime.
Name your board "Lightroom Tips" so we can find your faves!
If you love greens that look like film, here's what you can do…
+ Option 1: Do your 10 second edit with the BPS and make sure you apply the Muted or Greens saturation preset or you can…

+ Option 2: Use one of my signature 1-click presets in the BPS. Either of the 1-click presets are going to land you on the looks-like-film light and airy look. If you love a really vibrant image, start with Brittley Portra and you can adjust your temperature so that it's warm or cool, depending on your taste. If you love a muted image, go with Brittley Fuji and adjust the temp in the same way.
A good rule of thumb for when you're working with the temperature and tint sliders in Lightroom? The more warmth you add to an image, the more pink you'll need to add to an image. The more you cool off an image, the more green you'll need to add to an image.
Curious about the light and airy Brittley Preset Suite? You can get the full scoop here.
Just be sure to keep your color profile open and next to Lightroom while you edit so you keep your edits consistent.
Ready to see someone actually handle the temp and tint? You can watch me make the changes (I'll tell you what I'm doing on the right side of the screen) to photos from one of my weddings in the video below...
Happy editing!