14 Light & Airy photo recipes for summer
There's just something about opening your windows in the summer, right?!
Just imagine editing your photos next to an open window with all the inspiration and none of the stress. I'm all about that editing lifestyle!
Embrace your photographic voice
The possibilities are endless when it comes to editing! My whole heart behind creating the light and airy Brittley™ Preset Suite was that I wanted to help creatives find their photographic voice. If our styles are similar, then just do what I do.
But I also wanted to give creatives the opportunity to step into a photographic voice that is their own.
And that's the mission behind the BPS editing system. Thousands of you have grabbed my Brittley™ Preset Suite and you're rocking those blue-greens and creamy skin tones. So I thought it would be fun to do an inspirational post with a lot of different light and airy photo recipes for you to give a try!
14 light and airy photo recipes for the summer
Before we get started, there are a few important things to know about my presets! There are 3 pro presets and 18 pro adjustment presets.
1) Brittley™ pro presets
Just click! Your bonus, 10 Second Edit Ninja will teach you how to make this a quick process!
Brittley™ Pro — This is the classic pro preset and it works across the board on any photo you take

Brittley™ Fuji — Inspired by those softer fuji film colors and a city like Greece

Brittley™ Portra — Inspired by those pops of color in portra film and inspired by Hawaii
2) Brittley™ Adjustment presets
These are professional adjustments you can layer on to your photo! Just click a preset, fine tune your image and you're all set.
Let's get started with some light and airy photo recipes!
1. Middle-of-the-day-photos with greens
Apply the Brittley™ Fuji preset, adjust your temp, tint and exposure and you'll be all set!
Use Brittley™ Fuji for images that might have some strange color reflections! Color reflections happen when one surface reflects onto another.
Preset used: Brittley™ Fuji
2. when you're inside with some shadows
Who here loves the rich shadows that you see in some film photos? This is why I created the Brittley™ Portra preset! Apply this preset to your indoor photos that have some depth to them and watch the light and airy color come to life.
Preset used: Brittley™ Portra
3. or when you're shooting at night
Basically, Brittley™ Portra loves to give those shadows a chance to shine, too.
I shot this image of my sis after the sun had set. The light was just barely visible on the water in the distance (it was pitch black on our walk back to the car) and Brittley™ Portra makes this image really shine.
I really loved how her shirt paired with the water and the gentle pop of color from the candlelight.
Preset used: Brittley™ Portra
4. or you can give your light & airy photo a 10-second edit
I shot this image of Jen a little earlier in the day when it was a bit rainy. I would normally use Brittley™ Portra for an image like this to make those shadows pop without feeling like I'm losing my light and airy touch.
But I wanted to show you that you can get a different look really fast by clicking those adjustment presets.
I edited this image a little cool because we were at the lake at the end of the day. But you could warm it up for a totally different look!
Presets used…
Brittley Pro
+ Portra Film
+ Restore Whites
+ Brightest
+ Medium contrast
+ cool skin tones
+ muted saturation
5. when it's so overcast that you think you can't shoot
You know those shoots where it's so overcast that you want to cry because rain is inevitable and it's going to rain all day long? Yeah, Brittley Portra is your friend for shoots like this. Make sure you face your subject toward the brightest area and you'll be all set! I majorly cooled off this image because it fit the mood I was going for, but if you warmed it up, this image would totally feel like Hawaii!
Preset used: Brittley™ portra
6. When you're walking around the lake
One of our favorite things to do is walk around the lake or just sit there are let Daniel throw rocks into the lake! This was taken on a rainy day, but the sun was starting to peak out over the water right before it dipped behind the trees.
Everything in Missouri is still trying to wake up from a cold winter, so this image was already feeling warm to me because of the rocky ground and dead tree. Isaac was watching Daniel and taking care of Hannah so I could go take a photo of a leaf or something and I just felt like this was him. He's such a good dad! So even though this isn't a location I would necessarily pick (because you know I love those greens), I couldn't help but include this image.
To all you photographers who spend your life serving other people and giving them photos, don't forget to photograph the life around you. You are worth it!
Preset used: Brittley™ Pro
7. When the sun has set and there are a lot of greens
I had so much time for couple photos at this wedding and I was on such a creative roll that we shot well into dusk and darkness! Ha!
So for those times when the sun has set and you need to make sure those greens don't take a turn for well, awful, this is your preset!
When you're shooting after sunset, your temp and tint have to be pretty close to perfect, so play around with those sliders until you get it just right.
Preset used: Brittley™ Fuji
8. Overcast with an illuminated subject
Can you tell I love to photograph my sisters? Ha! Call it a summer tradition! This is from the same shoot as #5, but edited just a little different. I love what Brittley™ Fuji does to the bokeh!
Preset used: Brittley™ Fuji
9. When you need to bring out the shadows
The thing I love is that I could really put image #8 right next to this image and they would look great together!
There are just a few differences — the color and depth of the greens, a slight skin tone change and this image has more depth in the shadows.
Portra is usually a bit warmer, so you could bump up the temp on this image! You won't even have to worry about "burning" your greens.
Preset used: Brittley™ Portra
10. When you're wanting something warm, but not burnt
Brittley Portra is one of my faves. I always imagine someone holding a bag of popcorn at a wedding with evergreens in the background for this one! There's just something about the balance of greens and reds.
Brittley Portra really shines when it's heavily overcast… much like Portra 800!
Preset used: Brittley Portra
11. When you're in a wildflower field
Because flowers should be as beautiful in a gallery as they are in person! Also, greens should get to shine without outshining your subject! Brittley Portra is the most advanced preset because it really acts like Portra, but once you master the temp and tint and do some experimenting on when you should use this babe of a preset, you'll fall in love with this one!
Preset used: Brittley Portra
12. When you're shooting red flowers for a kate spade wedding
I can totally picture a Kate Spade inspired wedding where Brittley™ Pro is the only way to go!
Look at that clean color and those beautiful greens!
Also, I totally photographed this bouquet on the bride's suitcase.
Preset used: Brittley™ Pro
13. When you want something that feels monochromatic
Brittley Fuji loves the monochromatic scene — deserts, cliffs, white beaches — you name it! It's a great landscape preset whether your subjects are in the frame or not.
It's a softer color but not the kind of muted where the greens look sad or burnt… the kind of muted that makes you pause. It's a romantic kind of muted.
Preset Used: Brittley Fuji + portra finish
14. 10 second edit on overcast days
Look at my baby girl! I took this on an overcast day and did a quick 10 second edit to use it conjunction with a video. I needed a clean edit that still had those creamy skin tones. Look at her little hands on that tulle!
Presets used…
Brittley Pro
+ Fuji Film
+ Restore Whites Max
+ Brighter
+ Medium Contrast
+ Warm Skin Tones
+ Green Saturation
Now who is ready for summer?! I feel like I want to go take photos just so I can use some of the presets that I don't use as often! If you don't have the Brittley preset Suite yet, all 3 Brittley™ Pro presets and the Brittley Adjustment presets are waiting for you inside the suite. So does a membership site, but if you want all the info, you can click here to check it out!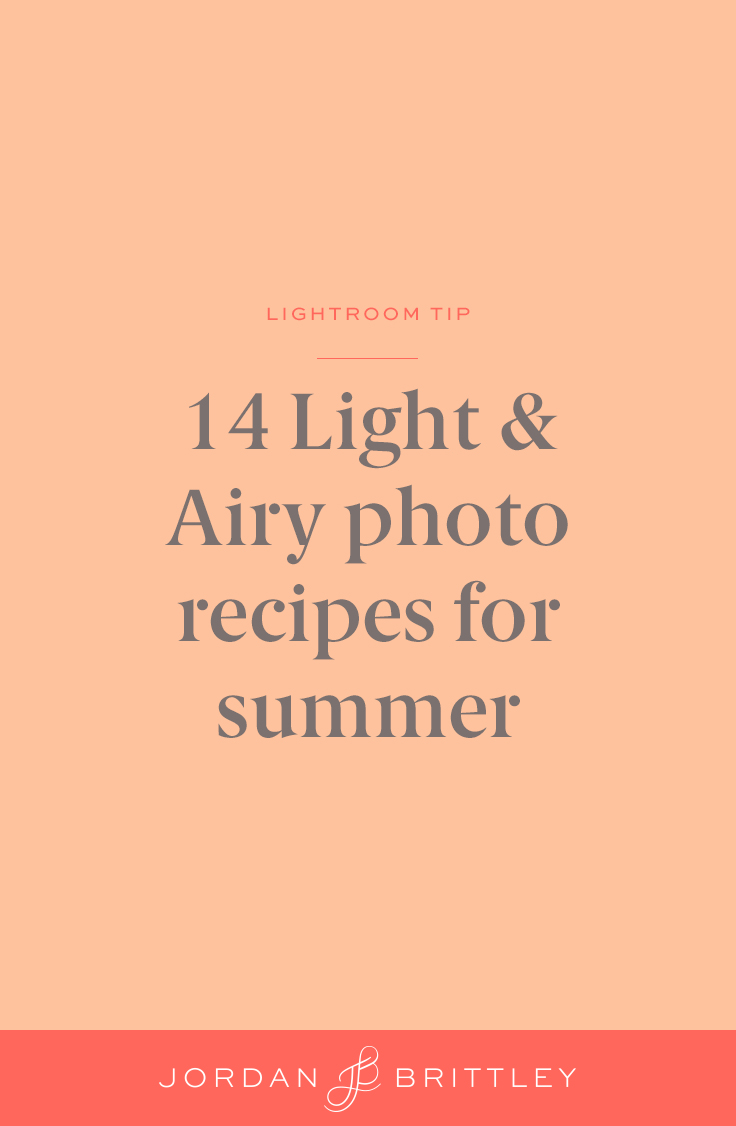 You and me both! Pin this image so you can come back to it anytime.
Name your board "Lightroom Tips" so we can find your favorite posts!
What's your favorite Brittley preset to use? Do you find yourself experimenting with other presets in the suite or do you get locked in and tend to stick with your favorite?